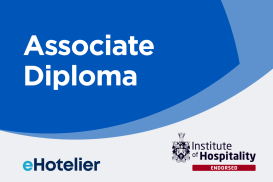 Certification / Supervisory
Associate Diploma in Food and Beverage Operations
The eHotelier Associate Diploma in Food and Beverage Operations delivers the skills and knowledge required to succeed as a professional in a Food and Beverage Operations role.
The certification is delivered through a series of online training courses and supported by professional mentoring. Courses consist of the core competencies of Food and Beverage Operations as well as four elective topics covering key skill areas, general knowledge and associated soft skills.
The Associate Diploma also requires the completion of a case study, located in this course.
The on-the-job coaching unit describes how to provide training for colleagues. It requires the ability to explain specific skills and knowledge, as well as monitor progress until they can operate independently of their coach. It applies across all sectors including the tourism/hospitality industry where there are no occupational licensing requirements at the time of publication. 

This course describes the skills, knowledge, and performance outcomes,  that one must have to lead and manage people individually and in teams. It teaches how to foster support and encourage their commitment to the organisation. It requires the ability to lead by example and manage performance through effective leadership. The course applies to individuals who operate independently and are responsible for leading and motivating people and teams. This includes supervisors, and operational and senior managers. It is also applicable to all tourism, travel, hospitality, and event sectors.

Are you looking for a way to show social and cultural sensitivity in your work? Then this is the perfect course for you! It will teach you how to communicate with people from various social and cultural groups with respect and sensitivity. You'll also learn how to address cross-cultural misunderstandings should they arise. This course is perfect for anyone in the tourism, travel, hospitality or event sectors. All personnel at all levels can benefit from this skill in the workplace. So why not learn how to show social and cultural sensitivity today? It could make a world of difference in your career!

The course will teach you how to measure the success of your environmental sustainability initiatives so that they can be perfected. You'll also learn important skills for analyzing data, monitoring progress, and communicating with team members or management in order to create long-term change within an organization.

If you work in the tourism, travel, hospitality or event sector, it's important to identify hazards and assess the associated safety risks. This course will give you the skills and knowledge to do just that. You'll learn how to take measures to eliminate or minimise risks and how to document all processes. This unit is ideal for anyone who wants to improve their workplace safety skills, from frontline operational personnel to those who work independently. So why not take the first step towards a safer workplace today? Enrol in this course and make a difference.

This course shows how to measure, support and find opportunities for sustainable work practices.  The lessons are applicable to individuals, working under supervision or guidance, who are required to follow workplace procedures and instructions. These individuals work in an environmentally sustainable manner within the scope of competency, authority, and own level of responsibility.

The goal of this course is to teach you how to resolve conflicts with both customers and co-workers. You will learn about effective techniques for managing irate individuals, working out solutions without getting into an argument, and learning when it is best to take action. This course applies to all tourism, travel, hospitality and event sectors. It applies mainly to senior operational personnel, supervisors and managers who operate independently and use discretion and judgment to resolve conflicts.

Are you responsible for developing staff rosters for large numbers of employees? If so, Roster Staff is the course for you! This course describes the performance outcomes, skills and knowledge required to develop, administer and effectively communicate staff rosters effectively. You'll learn how to plan rosters according to operational efficiency requirements and within wage budgets. Whether you're a senior personnel member who operates independently or with limited guidance from others, this course is perfect for you. It applies to all tourism, travel, hospitality and event sectors. Enrol today and learn everything you need to create efficient and effective staff rosters!

This course will teach you how to be an effective manager. You'll have the knowledge and skills needed for the daily management of your staff, as well as appraisals or counselling sessions that can help them reach their full potential in workplace environments where performance is measured. The course applies to senior personnel who operate independently or with limited guidance from others, including dedicated specialist staff or operational supervisors and managers. It applies to all tourism, travel, hospitality and event sectors.

This unit requires you to have a deep understanding of how your workplace operates. You'll need the skills and knowledge needed for daily management, as well as problem-solving abilities to effectively oversee all aspects from planning out operations to monitoring their quality assurance throughout each stage. The course applies to all industry sectors, and to individuals operating at a team in a leadership, supervisory or frontline management level.

The ability to lead diversity is an essential leadership skill. Managers and leaders need to understand their own biases and those of others in the team so they can work towards fostering a more diverse workplace culture where everyone feels included no matter what background or belief system they have. This course applies to individuals who direct the work of others in teams of variable sizes. They may work with staff from different cultures, races, religions, generations, or other forms of difference in any industry context.

This course will teach you the skills needed to provide customers with information and assistance on facilities, products or services. The course is designed for frontline service personnel working in various tourism, travel and hospitality contexts. Service may be provided face-to-face, but it could also involve telephone or other remote mechanisms like e-mailing instructions. Customer service personnel working under supervision undertake this function. Still, the unit is also relevant to those working in operational roles where customer service may not be the main focus.

The skills and knowledge required to undertake budgeting, financial forecasting, and reporting are necessary for any business unit's success. This course will teach you how to easily accomplish these tasks by allocating resources properly while managing risks that could arise from changing circumstances. It includes contributing to financial reports within your company on an annual basis so they can make informed decisions regarding plans. It also teaches the value of transparency through regular reports, which ensures everyone knows what goes where at every level throughout the organization. The course applies to individuals with managerial responsibilities that include overseeing the management of financial and other resources across a business unit, a series of business units or teams, or an organisation. It covers all areas of broad financial management. In a larger organisation, this work would be supported by specialists in financial management.

This case study provides data and commentary on the operation of a city centre hotel. The case study is set in a fictional context, but the data presented is based on real operations. The data has been tested to ensure that it is realistic, reliable and within conventional industry benchmarks. In analysing this case study, you should ensure that you consider all of the information and data as relevant and use the data and your analysis to illustrate your answer.