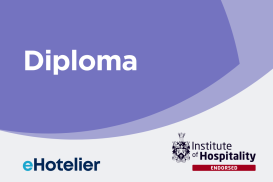 Certification / Management
Diploma in Revenue Management
The Diploma in Revenue Management delivers the skills and knowledge required to succeed as a professional in an operational revenue management role.
The certification has been created in collaboration with HSMAI and consists of the core competencies of Revenue Management together with four elective topics covering key skill areas as well as associated soft skills.
This Diploma requires the completion of a real-life scenario case study, located in this course.
The fundamental components of Revenue Management are applied to any business with fixed capacity, perishable inventory, and time-variable demand. This course introduces you to the elements of revenue management that you need to be familiar with to understand the role of revenue in the accommodation industry. It is not just about pricing. The revenue discipline involves many skills, and this initial course will introduce you to each. What you will learn In this course, you will learn About each of the components, or practices, that makeup what we call 'Revenue Management.' The benefits of being part of the Revenue department team Revenue and Distribution Management terms and definitions, we provide you with a quick reference guide, so you always have a place to go to check out what specific terms mean How to develop your career in Revenue Management in the Accommodation industry

Recent research from the University of Cornell used eye-tracking software and interviews to analyse how consumers make accommodation decisions and the process involved.  The results found that the imagery was a critical component far more than price. One of the study authors, Stephani K. A. Robson, said: "What guests appear to be thinking about is how well all the pieces of information about the hotel' price, brand, photo, ratings, and so on' fit together. They used pictures to imagine themselves at the property and to see if the hotel was the right fit for them, so images that provide some sense of the experience, not just what the hotel looks like from the outside, may be powerful, perhaps even more than reviews or ratings which get a lot of attention from the industry. Hoteliers now need to learn how to influence consumers to book their rooms instead of another property. To do this, you'll need an understanding of the customer journey, not just for holiday-makers but for business people too. You will learn: How do your potential customers view the trip-planning process Learn how customers search and find accommodation options Learn what drives customers search and selection process Learn what influences their choices during their search Many hotels are part of Hotel loyalty programs so we will explain what these are and how why people join How Loyalty clubs are used to influence the selection of accommodation

In this course, we provide an essential Revenue toolkit for assessing your Hotel Accommodation Market. This course explains the marketplace for accommodation. You'll learn the basics of economics and the role it plays in the revenue function. Learning how to identify your competitors, benchmark your property against theirs and how to win more business from them is a big part of the revenue role. This course will teach you how to read competitor reports and gain some insights from them so that you can act to improve your profits. You will learn: We will provide you with the answers to the following questions: What are the fundamental principles of Economics and their role in Hotel Revenue Management? The concepts of Supply and Demand How do Revenue Directors monitor and measure their competitor marketplace? How to identify your true competitor properties? Other than price, what influences our booking volume? How to read a typical competitor report and use other data to make better decisions.

Hotel rooms are goods with a shelf life of one day, so hoteliers need to maximise their value. With an accurate forecast, the General Manager can plan the staff requirements for each day, knowing the number of guests in the hotel daily. Management will understand their performance goals in terms of occupancy, rate and overall room revenue. Accurate forecasts will make pricing decisions much more straightforward. A forecast is a tool to run a hotel more effectively and profitably. YOU WILL LEARN What are the different types of forecasts? What are the objectives for each of the types of forecasts? What information do I need to put a forecast together? How do I find this information? What questions should I ask when putting together a forecast? How often should I adjust the forecasts? What steps do I need to follow to put the forecast together? What is the difference between unconstrained and constrained demand? What are the elements of an accurate forecast?

A revenue strategy is critical to the success of a hotel' as a revenue management philosophy. A revenue strategy allows the entire revenue team to discuss, strategise, and understand what the goals are for the hotel, and how to work towards these goals. It is also critical that the strategy is properly documented and available to the team during the year. By strategising with the revenue team, you will effectively have a set of guidelines to work with all year as well as solid, measurable goals to work towards. Different revenue strategies explained Inventory Control 'Äì how you can use inventory to increase your profit Why revenue managers might withhold inventory in specific scenarios You will learn: To understand how a successful revenue strategy is created To understand how the revenue strategy is used day-to-day to make decisions To understand how a revenue manager measures the success of the revenue strategy once it has been implemented

Once the revenue strategy has been created and agreed upon, the Pricing Strategy is developed. Developing the pricing strategy will effectively set the 'rules' for the pricing tactics for the year and possibly longer. This course explains the components of the pricing strategy and how the revenue team use this as their guide to creating and implementing pricing tactics throughout the year. What you will learn The definition of the different types of pricing To understand the importance of strategic pricing To understand the impact of pricing decisions To understand the importance of pricing integrity

All businesses need access to reports and data to improve their business.  Accommodation providers have a lot of data available to them. This course explains how to get the data you need, and what you can use it for and will cover some examples of how you can improve your business using data and intelligence. What you will learn: This course will define a few terms commonly used in hospitality: Business Intelligence; Big Data; Small data, Analytics; Customer Analytics; What types of data do RMs use?  Where do they get their data from?  Where is data available? How to read and gain insights from data and reports; Ways to present data in an easily digestible format.

Everyone in a hotel's team needs to understand the role of Revenue Management in the performance and culture of the property as well as what a typical Revenue Director's role entails. Learn about the role of the Revenue department, the purpose of Revenue Strategy Meetings, and how the department fits into the organisation at the property and corporate levels. The hotel industry does not have just one organisational structure that works for all environments, cultures, or companies. The organisational structure that works best for each hotel or company depends on a few key elements, which will be explained in this course. The various structures, along with the benefits and challenges, are explained.  You will learn: To understand the importance of a revenue management culture; To understand the different types of structures and the benefits and challenges of each; To understand the critical elements of how revenue management integrates into an organisation; To understand the importance of the Revenue Meeting and how it contributes to the culture across the business.

This course is for you if you want to learn how to work effectively with others! You'll learn the skills and knowledge required to deal effectively with issues, problems and conflict in a team environment. This course applies to individuals who perform a range of routine tasks in a team environment and use basic teamwork knowledge in a defined context, under direct supervision or with limited individual responsibility. The course is helpful, trustworthy, inspiring, confident, honest, and approachable and will give you the tools you need to be successful in working with others.

The on-the-job coaching unit describes how to provide training for colleagues. It requires the ability to explain specific skills and knowledge, as well as monitor progress until they can operate independently of their coach. It applies across all sectors including the tourism/hospitality industry where there are no occupational licensing requirements at the time of publication. 

Are you responsible for developing staff rosters for large numbers of employees? If so, Roster Staff is the course for you! This course describes the performance outcomes, skills and knowledge required to develop, administer and effectively communicate staff rosters effectively. You'll learn how to plan rosters according to operational efficiency requirements and within wage budgets. Whether you're a senior personnel member who operates independently or with limited guidance from others, this course is perfect for you. It applies to all tourism, travel, hospitality and event sectors. Enrol today and learn everything you need to create efficient and effective staff rosters!

The ability to lead diversity is an essential leadership skill. Managers and leaders need to understand their own biases and those of others in the team so they can work towards fostering a more diverse workplace culture where everyone feels included no matter what background or belief system they have. This course applies to individuals who direct the work of others in teams of variable sizes. They may work with staff from different cultures, races, religions, generations, or other forms of difference in any industry context.

This course describes the skills and knowledge required to participate in the effective workplace written and spoken communication. It applies to individuals who perform mainly routine tasks using limited practical skills and fundamental knowledge in a defined context. Individuals demonstrate oral and written communication skills when interacting with colleagues and clients. They generally work under direct supervision.

The Provide Service to Guests course applies to all front-line team members serving customers and colleagues daily. This course provides the skills necessary to effectively work in departments such as Front Office, Housekeeping, Food and Beverage, Conference and Banqueting, Spa and Golf Services. Positions include reception, concierge, porter, room attendant, waiter, bartender, chef, therapist, golf professional, retail assistant and manager. In this course, you will cover verbal and non-verbal communication, personal presentation, service standards, establishing rapport, special needs, recognizing opportunities and dealing with customer complaints. You will also cover providing feedback on customer service experiences and supporting service improvements. The course is ideal for individuals wishing to improve their service skills, potential hospitality employees, and teams wishing to implement and maintain consistent service delivery standards.

You can be successful in any meeting if you know how to manage it. This course will teach all the skills and knowledge required for chairing meetings and overseeing preparation processes like preparing minutes or drafting reports. The course applies to individuals in various work environments who are required to organise and manage meetings within their workplace. These individuals may work as senior administrative staff or may be individuals responsible for conducting and chairing meetings in the workplace.

The presentation skillset is a must for any professional who needs to make their case in front of an audience. presentations can range from simple training or marketing material to review sessions with clients — you must always come prepared. This course will teach participants how they should put together and engagingly deliver a message to ensure that they are effective presenters. 

This course teaches you how to use computerised reservations or operations systems for booking products and services. This unit covers the required skills in using all features of these systems without focusing on related sales abilities, which would have been covered by other units instead. The course applies to any business operating in the travel industry and any computerised system used to manage international or domestic product sales. It applies to frontline sales and operations personnel who operate with some level of independence and under limited supervision. This includes travel consultants, inbound tour coordinators, reservations sales agents and owner-operators of small travel organisations.

The case study is set in a fictional context, but the data presented is based on actual operations. The data has been tested to ensure that it is realistic, reliable and within conventional industry benchmarks. In analysing this case study, you should ensure that you consider all information and data as relevant and use the data and your analysis to illustrate your answer.

Most industries segment their markets (their customer and potential customers) into different segments to understand them more and to customise their products to each segment. This is a fundamental way to increase revenue for your business. As a revenue professional, you will need to know how the segments are defined and how you can increase your property's revenue and profits with that knowledge. What you will learn The definition of market segmentation in the Accommodation Industry How to define each segment What is the difference between a channel and a segment How to use this segmentation to gain insights and improve revenue and profit results Understand different consumer behaviours in different channels Understand the different terms and strategies used; Segments vs Channels vs personalised offers